All about SBI :
How SBI made it Possible for me to
Build this Website...
Custom Search
The cool thing about SBI is that it provides everything anyone could ever need or want to be able to build a professional website from scratch.
SBI will enable you to build a website and empower you to build a complete and profitable online business during the process.
And that is exactly what I am busy doing while I am building my own website...
I am building an online business that enables me to spend more time doing what I enjoy most, which is travelling the back roads of Southern Africa.
If you are anything like me you have two problems in life...
...not having enough money and not having enough time to do what you love to do! Building this website is providing the answer to my problems.
Another great thing is that it does not matter how technically challenged you may be. The fact is, with SBI you can build a website that really works without having to have any programming skills. If you can type a letter or send an email, you have enough skills to start your own website. If you are willing to do the typing, the SBI tools and processes will do the rest.
With SBI you can build a website that actually draws traffic and produces income that grows as your site grows. Problem solved.
But don't just Take my Word for it. Have a look at the Life Changing Experiences other Users of SBI has had...
These are all ordinary people just like you and me who decided to do something different. And they spectacularly succeeded...
"Having the opportunity to share Vieques and Puerto Rico with so many people around the world is a great satisfaction. As a bonus, I get to go on a tax-deductible vacation every year. I can visit my beautiful island, ride my jeep, take lots of photos, meet great new people, and write travel guides about places I love. I felt that money would just be the icing on the top. Of course, I did not realize how much icing my cake would have."
~ Luisa Cupeles
viequestravelguide.com

---

"What can I say? Life has never been better. Freedom is something that can't be paid for. It's not that I work less, I probably work more than I ever did, but I do it on my own terms. It doesn't feel like work at all.I am confident that I will never have to work for others again unless I want to!"
~ B. Bradtke
outback-australia-travel-secrets.com

---

"It's so logical, so efficient, and the tools make it so do-able. But you still have to do it. While SBI made this possible, we built this business. So if you are looking for a get-rich-quick, Dr. Evoy would be the first to tell you to chase after these false dreams elsewhere. If you want to own a business that makes it fun to wake up each morning, I can't say enough how much SBI has impacted our lives."
~ Fiona McCardle/Jim Andrew
Rent a Villa in Tuscany
So, what is SBI all about?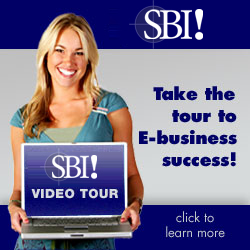 Click here to view this video
which will give you the background on this great way to build a successful online business. It's as easy as falling out of a tree...simply let go!
SBI! makes online business success an easy to follow all-in-one process. All the tools and guidance you need to succeed is provided for you.
Sure, there are other ways to build websites that might seem easier to do but to generate profits online takes a bit more than slapping together a few pages and then hoping for the best.
SBI! includes all the tools as well as a proven process to build a long-term, profitable e-business.
You will get more than just a "site builder." You don't need to worry about looking for separate hosting, paying for a separate keyword research tool, handling site submissions, integrating auto responders, etc., etc. Everything is included. See the full list of features here...
Just the fact that you are reading this page shows you that it is possible to build a website from nothing. And you know what? If I can do it you can most probably do it better! It is that easy....
...just Follow the Process!
Too many non-SBI! sites start without profits being "built into" the process from DAY 1. It all begins with the right process. Content

Traffic

PREsell

Monetize is the underlying, logical and powerful process that capitalizes upon the fundamental realities of how people use the Web. C

T

P

M puts you on a solid, profitable business foundation.
Download Free Website Building Courses...
Yes, these downloads are really free with no obligations whatsoever. Download any or all of the courses below. The content is invaluable to anyone thinking of building an online business.
Why would you want to re-invent the wheel?
Simply download these PDF files which will put you in a position to make informed decisions when you are ready to start a website. It certainly made my life a whole lot easier and I really hope and believe it will do the same for you too...
---

Free
Download!
Click here to Download the Affiliate Masters Course e-book.
The Affiliate Masters Course shows affiliates how to build a traffic-generating theme-based content site. From brainstorming and researching profitable keywords, to building SE-ranked Keyword-Focused Web pages using CTPM, to establishing profitable Pay-Per-Click campaigns, the course provides all the information needed for anyone to build a successful affiliate business.
SBI! takes care of the technology and eliminates the complexities allowing affiliates to focus on their business.
---

Free
Download!
Click here to Download the Service Sellers Masters Course e-book.
Selling a service on the Net is a fantastic way to leverage income-building potential -- at a minimum cost. The Service Sellers Masters Course is designed and written for all service sellers... whether they are new to the Net, experienced or in the early stages of business development. The course teaches service sellers how to build a Theme-Based Content Site which attracts targeted traffic and develops an "Open-To-Hire" attitude in potential clients. From there, it's an easy and profitable pathway from a first follow-up telephone call or e-mail to a first contract.
There's no need to learn HTML, FTP, Web site design, or the finer points of Search Engine Optimization. With the e-zine capability, SBI! becomes a powerful tool for turning potential clients into actual ones!
---

Free
Download!
Click here to Download the Work at Home Moms Masters Course e-book.
The WAHM Masters Course is literally everything a mother would want to know about starting her own Internet business from home. Four Work-At-Home Moms, authors of the course, start right from the beginning, from reviewing possible options and organizing properly, to the nitty-gritty of how to actually build a substantial income online. Case studies are included.
Their realistic, "been-there-done-that," helpful style gains the trust of moms and effectively PREsells SBI! for you. A mom who reads and follows this information will soon be on her way to building a real business with growing income.
---

Free
Download!
Click here to Download the Make Your Price Sell Masters Course e-book.
Pricing is the single most important marketing decision that any business owner ever makes. On the Internet, time waits for no business. Customers have access to tons of information through the Web. Competitors are a mere mouse click away.
Everyone has to get the price right... the first time. In the digital market scene, there are very few second chances. "Make Your Price Sell!, The Masters Course" turns your visitor into a pricing expert.
---

Free
Download!
Click here to Download the Net Writing Masters Course e-book.
The majority of folks selling online focus on selling first. They often spend hundreds of hours of their own time writing persuasive sales copy. But...
Surfers are not looking to be sold. They are not looking for your business. They are searching for quality information and solutions they can trust (i.e., "content").
Well-written content gives them what they want. It attracts targeted visitors by ranking well at the Search Engines. Then it PREsells or "warms up" visitors, gaining their trust and confidence.
Then, and only then... monetize!
Effective Netwriting is really a two-step process... PREsell, then SELL. And that requires two different kinds of writing...
Write to PREsell.
Then, and only then, write to SELL
The Netwriting Masters Course teaches you how to get the WHOLE process correct.
---

Free
Download!
Click here to Download the Webmasters Masters Course e-book.
The growing demand for affordable Web sites and Webmasters, especially in the Small Business market, is encouraging an increasing number of Webmasters to strike out on their own and set up a home-based business. There is only one drawback for most of them... their "business" skills are often not as highly developed as their design skills. And creativity is only one piece of the success puzzle.
The Course provides the information and resources needed to start (and keep) a Webmastering business on solid footing.
---

Free
Download!
Click here to Download the Make Your Net Auction Sell Masters Course e-book.
A Net Auction business may be the easiest entry into e-business. It's fun, easy, cheap and fast -- you can even start with less-treasured items stored in your basement, attic or closet! Consider the benefits... minimal start-up costs, no need for technical expertise, lots of actively searching and targeted traffic, world-wide social interaction with people who love the same things, flexibility, etc. What could be better?
But like any business, offline or online, there is a right way and a wrong to go about it. Sydney Johnston, a well-respected Net Auction expert, shares her knowledge, experience and expertise so that anyone can get up and running in the right direction... fast!
---